News, sport and opinion from the Guardian's UK edition
Party says it is confident no data was breached during 'failed' attack


Assassination attempts target political leader in Syria and kill commander in Gaza

Deputy editor to become FT's first female editor after almost year-long recruitment process


Ghostly remains of 'Maid of Harlech' occasionally visible in the sand
Hamid Farahi Alamdari 1962-2018: He was a charmer who spoke seven languages and claimed he had nearly worked with Stephen Hawking – but somehow Hamid ended up living in a Tesco car park and dying alone

Calculating the patterns and cycles of the past could lead us to an objective version of history. Could it also help us prevent a looming crisis?
Step-parents are much maligned in pop culture, but many children develop lifelong – and life-affirming – bonds with their parent's new partner. What's the secret of making the relationship work?

5 out of 5 stars.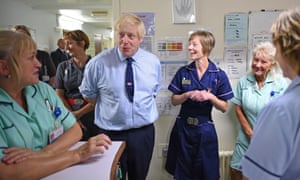 Sarah Boseley and Denis Campbell discuss the extent of private company involvement in the NHS, one of the key battleground issues of the general election. Plus: Dan Collyns on the downfall of Evo Morales in Bolivia

Watching the broadcaster belittle its staff and undermine its own work in my friend's tribunal has been startling, asks author Stefan Stern
Urgent investment in social care is essential to address the reasons why people are locked away in inpatient units
Our cartoonist looks at football's dignified, private reflection over the annual weekend of remembrance

England's manager has handled the Raheem Sterling incident well but cynics might argue it was an easy step for this fixture
England's build-up to the Test series began well as they finished 283 for three on day one against a New Zealand XI
Response follows Jeremy Corbyn urging PM to 'take personal charge' as locals tell of ruined homes

A&E admissions highest in deprived areas of England as bronchiolitis drives increase
Number of people in work across Britain has fallen by the most since 2015

TV campaign tells story based around the first Sainsbury's store, which opened in 1869
Former president says it hurts to leave 'for political reasons' as foreign minister confirms he has left for Mexico

Afghan president Ghani hopes move will help secure release of American and Australian
Accusations levelled by Valeria Gontareva against Ihor Kolomoiskiy provide test for Ukraine's new president

Laura Cooper said Office of Management and Budget directed freeze against judgment of defense and state department officials
Leftwing actor has told how her view of the monarch changed having played her in The Crown
Get stuck into the BBC's addictive new age-gap romance. Plus: Liam Payne interrogated. Here's what to watch this evening
The ultra-rare material made from fibers – byssus – harvested from giant mollusks was once the height of fashion
The Guardian's Rob Booth is reporting from the constituency of Peterborough to find out what issues people there care about most – and he wants your help

Help us to document any issues related to voting in the UK

The Guardian's Ben Quinn is reporting from the constituency of Cities of London and Westminster to find out what issues people there care about most – and he wants your help

Have you found yourself changing your mind over the course of the campaign, or are you already certain about who you will be voting for and why?
Televised hearings give Democrats chance to make the case against Trump to the American people but also give Republicans chance to muddy waters

Photographer Chris de Bode, working with Save the Children, decided to try to capture their dreams with his camera

Tribal leaders to testify before Congress in battle against Trump administration's assault on environmental protections
Homosexuality is illegal in more than 30 African countries and punishable by death in four. There is also the widespread belief that homosexuality is 'un-African'. In his new book Limitless Africans, Nigerian photographer Mikael Owunna documents stories of LGBTQ immigrants, refugees and asylum-seekers
The seventh of a new Guardian Print Shop series featuring classic sports images from the likes of Gerry Cranham, Mark Leech and Tom Jenkins – yours to own for just £55 including free delivery

More than 40 dogs took part in the Strutz canine fashion show in Chelsea, London, hosted by Love My Human, including rescued dogs from war-torn countries

Climate Visuals is a project that aims to create a new visual language for climate change that conveys the urgent human stories at the heart of the issue. It has recognised existing and outstanding images with impact for its inaugural photography awards

The Guardian's picture editors select photo highlights from around the world